Johnson & Alday To Participate In 3rd Annual Adult Spelling Bee
Attorneys Bobby Johnson and John Alday invite everyone to come to the Communities in Schools Adult Spelling Bee! Friday, March 1st, at 7:00 pm at the Strand Theater on the Marietta Square, Bobby and John will be spelling for charity.
They will be joined by Ryan Patrick, a partner at Marietta law firm Smith Tumlin McCurley & Patrick. This attorney team—the Outlaws—will compete against the Kiwanis Club, the local police department, and many other teams in a traditional spelling bee; all to raise money to support Communities in Schools (CiS).
Spelling For A Cause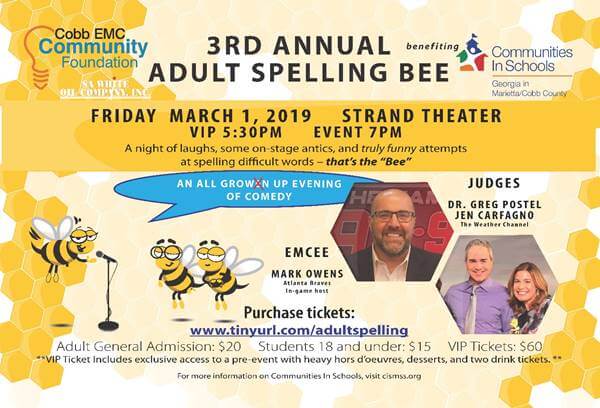 CiS is a national nonprofit group who works to make sure at risk teenagers have the skills and resources necessary to graduate high school and learn the tools to succeed throughout their lives. CiS has done this vital work for more than 40 years and Johnson & Alday are proud and excited to participate in the 3rd annual adult spelling bee!
The event will be hosted by in-game Braves host Mark Owens and it is family friendly. Tickets are only $20 and goes to a crucial cause. Almost as importantly, you will get the chance to help the Outlaws spell in case the team stumbles on a difficult word (like cat).
In case you're still not convinced, please watch Bobby and John's promotional video below. If that doesn't convince you, rest assured that John will not be singing at the event.
We hope to see you there!