Marietta Personal Injury Lawyer
Personal Injury Lawyer Marietta, GA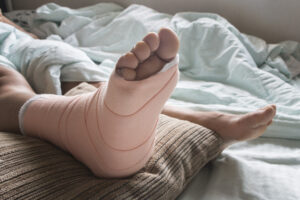 If you have been in an accident, it may be in your best interest to discuss your situation with a personal injury lawyer Marietta, GA injury victims and their families can rely on. Our team at Johnson & Alday, LLC has a proven record of success in helping those who have been injured to recover the compensation they need and deserve. With nearly 40 years combined experience in personal injury and workers compensation law, our team is well prepared to advocate for you throughout every step of the process. 
Personal Injury Practice Areas
Auto Accidents
Auto accidents can be devastating events that can result in serious injury and damage to your personal property. Our team has the knowledge and experience to advocate for you in court so you can obtain the compensation you need to get back on track. We know how to stand up to insurance companies when they try to get you to settle for an amount that is far lower than what you need and deserve after your accident. Our lawyers will let them know that you are not willing to settle for less than what you deserve. 
Slip and Fall
Our Marietta personal injury lawyer has ample experience investigating and litigating slip and fall related personal injury cases. Every public business is responsible for maintaining a safe and clean environment for visitors. If your injury was caused by unsafe conditions in a public place, you may be entitled to significant compensation for your injuries. Let us navigate the intricacies of the legal processes related to slip and fall injuries so you can get back on your feet.
Dog Bite
Dog bites can be particularly traumatic events that lead to significant injuries. Immediately following being bitten, call 911 and seek medical treatment for your injuries. The officer that responds to your call should work with animal control to identify if the dog has a history of aggression. Be sure to thoroughly document the incident through pictures of your injuries. Also make notes about the details of what happened. By taking these steps after the bite you can protect your rights and improve the chances of success in your case.
Wrongful Death 
Claims related to wrongful death can be particularly complex, often involving multiple types of claims simultaneously. It is essential to have a skilled legal team to advocate for you who can manage multiple claims simultaneously, without missing anything. Insurance companies tend to fight wrongful death claims rather aggressively, working hard to devalue the life of the deceased person. Our team can help recover compensation for medical bills, funeral expenses, pain & suffering, and lost wages.
Pedestrian Accident
The inherent risks of traveling as a pedestrian are high and the consequences of being hit by a vehicle can be devastating. If you feel that you took every measure to be safe and were still injured as a pedestrian, consider contacting a personal injury lawyer from our firm. We will fight to get compensation you need to get back on track after being injured.
Contact Johnson & Alday, LLC Today
If you were recently injured and suspect that another person or entity demonstrated negligent conduct which ultimately led to you being injured, contact a personal injury lawyer in Marietta, GA from Johnson & Alday, LLC today to speak with a member of our team.