Marietta, GA Wrongful Death Lawyer
When someone has been killed by another party's negligence, it can cause heartache and turmoil in the lives of their family members and loved ones, which is why you need a wrongful death lawyer Marietta, GA. What does one do if they are left to pick up the pieces and seek justice for their lost family member? Do you want to pursue legal action against the individual who caused your family member's death? If so, what are your options? The easiest way to begin this process would be to contact an experienced lawyer from Johnson & Alday, LLC to represent you in court and help you through this difficult time.
The Elements of a Wrongful Death Case
If you have lost a loved one due to someone else's negligence or recklessness, you may be able to file a wrongful death claim. In order to succeed in a wrongful death case, there are certain elements that must be present. First, you must be able to show that the death was caused by another person or entity. Second, you must be able to show that the other person or entity was negligent or reckless in their actions. Third, you must be able to show that the death resulted in damages for the victim's family. Fourth, you must be able to show that the victim's family has suffered economic damages as a result of the death. Fifth, you must be able to show that the victim's family has suffered non-economic damages as a result of the death.
Length of a Wrongful Death Case
If you've lost a loved one due to someone else's negligence, you may be wondering how long it will take to get justice. While every case is different, most wrongful death cases take several months to a year to resolve. There are many factors that determine the length of your wrongful death lawsuit:
Amount of damages
Number of people involved in the case
Location of the incident and court where suit was filed
Witnesses for the plaintiff or defendant ; those testifying on behalf of the deceased person; expert witnesses like engineers, doctors or psychologists who can testify about what happened and why
Length of time it takes to gather evidence such as witness statements, photos and videos taken at the scene; analysis from experts such as doctors
Time needed for both sides to present their arguments
Available time slots in courts with judges available who understand this type of law (almost all lawsuits end up being heard by a jury)
Five Factors to Consider When Hiring a Lawyer
Hiring an attorney can never bring your loved one back, but it can help you receive compensation so you can focus on the grieving process. However, there are factors to consider before hiring an attorney. In particular, you'll want an attorney that possesses the following:
Experience Level
Not only do you want an attorney with years of experience, but you want one with ample experience in wrongful death. Ideally, hire an attorney specializing in wrongful death, although personal injury cases often overlap with wrongful death. Be sure to ask potential attorneys how many years of experience they have and if they can name specific cases they've worked on.
Experience Working On Similar Cases 
While all wrongful death cases share similarities, some present unique challenges that may require extra finesse from a potential attorney. For example, a wrongful death case caused by a government worker can present extra challenges—such as determining who's at fault. If a government vehicle crashed into another car, taking the life of the driver hit, the governmental entity itself might be at fault. Likewise, deaths caused by a private company can also make determining who's at fault trickier.
A Track Record With References to Back It 
You want to hire an attorney with a proven track record in winning cases. You also want an attorney that has never had issues, such as with the Bar Association. Be sure to ask them for references. While fellow legal colleagues and prior firms they've worked on can go a long way, reviews from satisfied clients often have a bigger impact. Any potential attorney should have no issue providing you with references upon request.
Willing to Go to Court 
When hearing the word "lawyer," many people picture attorneys in black suits, equipped with briefcases, yelling "Objection!" at each other. However, this is often far from reality as many cases are settled outside of court, especially wrongful death cases. Not only does going to trial cost time and money and produce unpredictable results, but it can also be stressful for the victim's family. For these reasons, both parties tend to settle before a case goes to trial. A potential attorney will apply legal pressure on the other party's insurance company to receive an adequate settlement. Generally, settling is enough. However, any potential attorney should be willing to go to court if necessary.
Objective and Comfortable Communication 
Lastly, you must be able to reasonably communicate with your attorney and feel comfortable while doing so. Ask yourself if you feel comfortable around any potential attorney and if they can talk in a way that you understand. The law can often be tricky, especially if you don't have any former legal experience. While attorneys won't "bog" you down in legal nuances, they should be able to explain overall processes in a way you understand. They also should set realistic objectives for your case. It's easy to be emotional in a wrongful death case and while an attorney shouldn't ignore your feelings, they also should be as objective with you as possible.

Common Incidents That Lead To A Wrongful Death
If your family member was killed because of someone else's negligent actions, you may want to get in touch with a wrongful death lawyer Marietta, GA residents trust. While nothing can bring back your loved one, getting compensation may at least alleviate some financial burden. Your family may be entitled to compensation. Here are the most common causes of wrongful death claims.
Car accidents.

Many car accidents occur every year on Georgia roadways and some of them result in fatalities. These accidents can occur due to speeding, distracted driving, drunk driving, tailgating, drowsy driving and other negligent actions. Traumatic brain injuries, internal bleeding and spinal cord injuries are more likely to be fatal. Although any car accident can be deadly, certain types of crashes are more likely to be fatal than others, such as head-on collisions, side-impact accidents and rollover accidents.

Motorcycle accidents.

While riding a motorcycle on a warm and sunny day can be thrilling, it can also be dangerous. Motorcyclists lack the protection of a vehicle, so they are more likely to suffer fatal injuries in an accident. Motorcyclists may even get thrown off their bikes. Common causes of motorcycle accidents include speeding, lane splitting, drunk driving and distracted driving.

Defective products.

Manufacturers are responsible for making sure that their products are safe for the public to use. If they fail to do this, consumers can suffer serious injuries. As a Marietta wrongful death lawyer can confirm, some may even sustain fatal injuries. A few examples of products that can cause fatal injuries include medications, vehicles and childcare products.

Medical malpractice.

People go to the doctor's office or hospital to get better. Unfortunately, however, some may get worse. If doctors or other medical staff are negligent, patients may sustain deadly injuries. Common types of medical malpractice include surgical errors, misdiagnosis, hospital infections and medication mistakes.

Truck accidents.

Truck accidents have a higher chance of causing fatal injuries than accidents only involving passenger vehicles. Commercial trucks are very large and heavy, so they are more likely to cause significant damage in an accident. Trucks can cause wrongful deaths in several ways, including speeding, driving with an overweight load, distracted driving, fatigued driving and mechanical defects.

Premises liability.

Property owners have a legal duty to keep their property safe so that others don't get hurt. While most property owners work hard to keep their property safe, others may be negligent. Unsafe conditions that can cause injuries include wet floors, broken handrails, negligent security and build code violations. Unfortunately, some of these hazardous conditions can result in fatalities.

Work accidents.

Employers are responsible for maintaining safe work environments for their workers. If they fail to do this, workers can get seriously hurt. Some may even sustain fatal injuries. Construction sites and factories are more prone to having dangerous conditions than other work environments. Falls, machine entanglement, fires and getting struck by objects can result in death.
Marietta Wrongful Death Law Infographic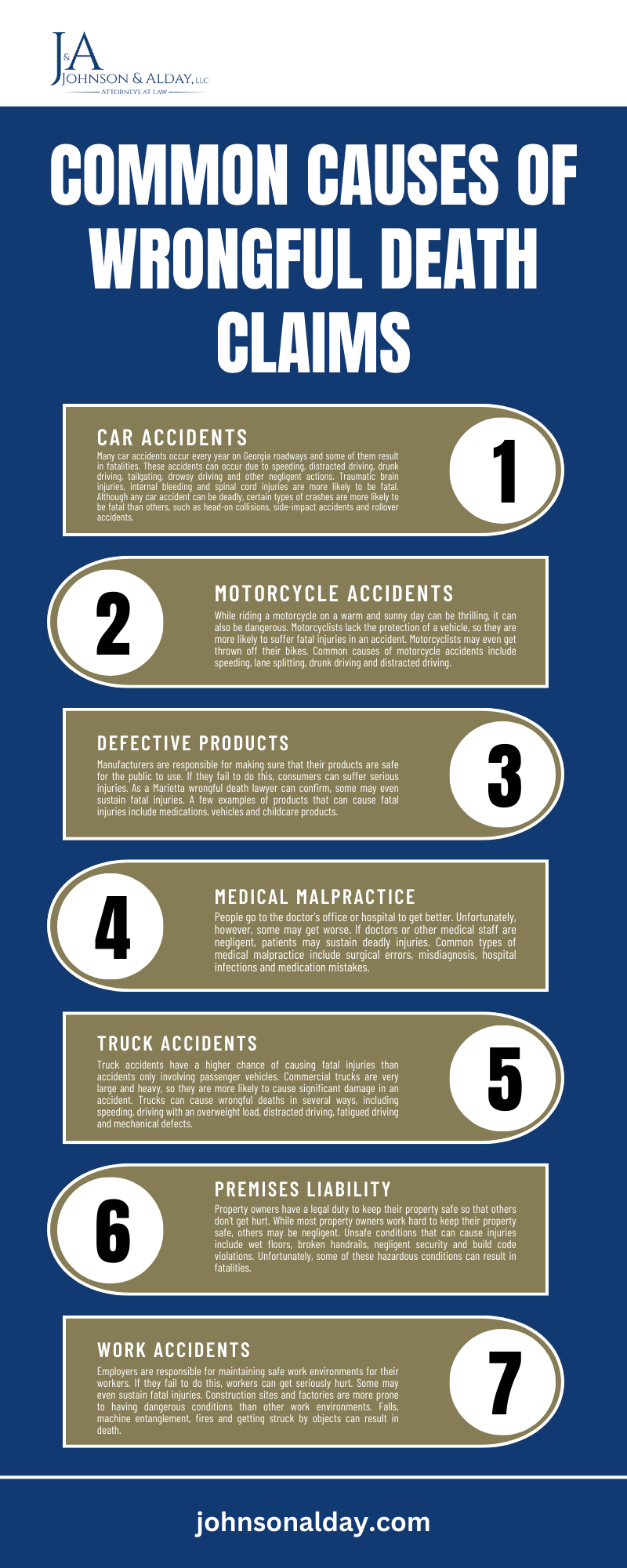 Marietta Wrongful Death Statistics
According to the Centers for Disease Control and Prevention (CDC), there are an estimated 200,955 accidental deaths in the United States each year. The fourth leading cause of death, accidents are responsible for just under 7 percent of all deaths.

How Johnson & Alday, LLC Can Help
You may be feeling overwhelmed and confused about what to do next. A lawyer can help you navigate the legal process and get the compensation you deserve. A lawyer can assess your case and determine if it is possible to recover damages from a third party who was negligent or contributed to your loved one's death. An attorney will explain all of your options with you so that you are empowered with knowledge as well as help make decisions on how best to proceed.
Contact a Marietta wrongful death lawyer today at Johnson & Alday, LLC for help with your case.

Marietta Wrongful Death FAQs
Who can file a wrongful death lawsuit?
As a Marietta, GA wrongful death lawyer from Johnson & Alday, LLC can explain, survivors of the victim, such as spouses, parents, and children, may be entitled to file a wrongful death lawsuit. However, minors will likely need an adult guardian in order to submit a lawsuit. Sometimes, other family members such as grandparents may be eligible to file instead. In Georgia, a surviving spouse that sues another party for wrongful death must share their recovery award equally with the surviving children. If there is no surviving spouse, the right to sue for wrongful death will go to the surviving children. If there are no surviving children or spouse, the deceased's parents have the right to follow a lawsuit under Georgia law.
What types of compensation are provided to surviving loved ones?
There are many different types of damages that a wrongful death lawsuit can provide. Surviving family members may be able to receive recovery for funeral costs, medical costs, lost wages, loss of future earnings, loss of inheritance, loss of benefits, pain suffering, lost companionship, mental health, and general or punitive damages. Furthermore, in the state of Georgia, survivors may also sue for the full value of life which is assessed by the jury. Compared to other states, Georgia does not impose a limit on damages that can be provided through a wrongful death case.
How long is the statute of limitation for Georgia?
In the state of Georgia, wrongful death lawsuits have to be filed within a couple years of the date of the death. After the statue of limitation expires, a claim will be denied. So this is why it's important to speak with a Marietta wrongful death lawyer as soon as possible after you suspect that someone has passed away wrongfully. If you have lost someone that you love in a wrongful death situation, you may have mixed feelings about pursuing restitution for recovery. You may worry that you are placing a dollar amount on your loved one's death, when on the contrary, compensation is intended to support you as you grieve and continue your life. 
Are there limitations for what situations constitute wrongful death?
There are an unlimited number of ways that someone can get injured or pass away. While there tends to be common accidents related to wrongful death, there really isn't any limitations on what situations constitute wrongful death. It is more about making sure that certain elements apply to what happened, and proving that in court successfully. For instance, you will have to show through evidence why another individual, business, agency, or entity is responsible for the death of your loved one. You will need to show that a reckless action, or negligence, resulted in your loved ones passing before their time. 
Who should I speak to if I want to know more?
There are many dedicated legal professionals who have the knowledge and experience to help you file a wrongful death lawsuit. Due to how complex and sensitive these cases are, it is imperative that you have a legal team who understands the nature of these cases. Because life was lost, there are going to be difficult emotions on top of an already stressful legal proceeding. Having a reliable team that you can turn to for questions and concerns is essential. If you want help right away, consider reaching out to a Marietta wrongful death lawyer from Johnson & Alday, LLC at your earliest convenience.

Understanding The Basics Of Georgia Wrongful Death Laws
Our Marietta, GA wrongful death lawyer fully understands that dealing with the untimely loss of a loved one is an unimaginably painful experience. When this loss occurs due to the negligence or wrongful actions of another party, it becomes even more devastating. In such challenging times, understanding the specific laws related to wrongful death in Georgia is of utmost importance. At Johnson & Alday, LLC, we are deeply committed to providing you with the knowledge, legal expertise, and compassionate support needed during these trying moments. We stand by your side to guide you through the intricate web of Georgia's wrongful death laws and to help you seek justice for your beloved family member.
Understanding Wrongful Death Laws In Georgia:
The Definition Of Wrongful Death In Georgia:
Wrongful death in the state of Georgia is legally defined as the tragic loss of a person's life that occurs due to the negligent, reckless, intentional, or criminal actions of another individual or entity. To establish a wrongful death claim, it is crucial to demonstrate that had the deceased survived, they would have had legitimate grounds to file a personal injury claim against the party responsible for their demise.
Who Can File A Wrongful Death Claim?
In Georgia, the right to file a wrongful death claim is not open to just anyone. The law specifies that only certain individuals have the legal standing to pursue such claims. These eligible parties include the surviving spouse, children, parents, or the personal representative of the deceased's estate. The primary aim of a wrongful death claim is to provide compensation to these surviving family members for the loss of companionship, financial support, and other related damages.
Statute Of Limitations:
Timing is critical when pursuing a wrongful death claim in Georgia. The state imposes a statute of limitations that typically allows a two-year window from the date of the deceased person's death within which to file a lawsuit. Failing to meet this deadline could result in your case being dismissed, making it crucial to act promptly when you believe you have a legitimate claim. Our Marietta, GA wrongful death lawyer is dedicated to meeting any and all state-imposed statutes.
Damages Available:
Under Georgia law, various types of damages may be available in wrongful death cases. These damages can include medical and funeral expenses, loss of future income and benefits, the pain and suffering experienced by the deceased prior to their death, and more. The court will consider the unique circumstances surrounding the case to determine the appropriate compensation for the surviving family members.
Navigating Georgia's Complex Laws:
Navigating the legal complexities associated with wrongful death cases can be an overwhelming and emotionally taxing process, especially when you are simultaneously grieving the loss of a loved one. This is where the expertise and support of our Marietta wrongful death lawyer, becomes invaluable. We possess a deep and comprehensive understanding of Georgia's wrongful death laws, and our legal team is fully dedicated to assisting you in seeking justice and the compensation your family rightfully deserves.
If you have tragically lost a loved one due to the negligence or wrongful actions of another party in Marietta or the surrounding areas, we urge you not to hesitate. Please reach out to our team today. Our highly experienced team is here to provide you with not only expert legal guidance but also compassionate support during this trying time. We understand that your peace of mind and the pursuit of justice for your loved one are your top priorities, and they are ours as well. Contact us now for a free consultation, and let us shoulder the legal burdens while you focus on healing and remembrance. You don't have to go through this alone; we are here to help.
Johnson & Alday, LLC Marietta Wrongful Death Lawyer
219 Roswell Street NE, Marietta, GA 30060
Marietta Wrongful Death Lawyer Google Review
"They are great!! I highly recommend. This was my first time ever dealing with something like this, having to get attorneys, etc. They were incredibly patient with me and very helpful. They answered all my questions, they responded in a timely manner and they kept me updated and informed about what was happening with the case. Not only that, we were doing this long distance as well. Hopefully, I don't need them again, but I will definitely be coming back if I do." – Taya C.