Marietta Truck Accident Lawyer
Truck Accident Lawyer Marietta, GA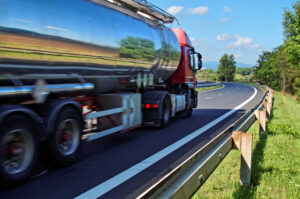 If you have been in an accident, discuss your situation with a reliable truck accident lawyer Marietta, GA injury victims and their families can rely on. At Johnson & Alday, LLC we have a proven record of success in helping those who have been injured in truck accidents to recover the compensation they need and deserve. With nearly 40 years combined experience in personal injury and workers compensation law, our lawyers are well prepared to advocate for you throughout every step of the process and help you get the compensation you need in order to recover physically and financially.
Truck Accident Claims
Due to the extreme forces involved in accidents between passenger vehicles and commercial trucks, these accidents can be particularly devastating for victims and their families. Our team has the knowledge and experience to advocate for you in the process of pursuing compensation you need to recover. Our team knows how to stand up to insurance companies when they try to get you to settle for an amount that is far lower than what you need and deserve after your accident. We will stand up to the insurance companies involved in your claim and make them well aware that you are not willing to settle for less than what you deserve. 
Compensatory Damages for Truck Accidents
Compensatory damages may be referred to as "economic" or "noneconomic." Economic damages generally tend to be more physical, quantifiable damages. Meaning economic damages are more easily assigned a dollar amount.
Our team can help you pursue compensation following a truck accident where you sustained an injury or incurred damages to personal property. Regardless of the level of seriousness, an accident between a small vehicle and a truck accident can negatively impact the trajectory of your life. Compensatory damages are intended to help make the expenses associated with your recovery less financially impactful. Our Marietta truck accident lawyer can help you pursue compensation to help cover current bills and future expenses, such as physical therapy for injuries and damages you sustained as a result of the accident.
Noneconomic Damages
Noneconomic damages pertain to less tangible or emotional conditions that are a result of the accident. Additionally, in the event of a wrongful death, or incapacitation that renders the victim unable to take legal action, a spouse may also be eligible to pursue compensation for personal injury damages sustained as a result of the truck accident. 
Truck Accident Lawyer Marietta, GA
If you have recently been involved in a truck accident then contact a truck accident lawyer Marietta, GA residents turn to from Johnson & Alday, LLC for much-needed assistance. Truck accidents have been known to cause substantial damage and medium to severe injuries in some accidents. When someone is injured in a truck accident that wasn't their fault they should be compensated for the struggle it caused them. A truck accident could lead someone to lengthy stays in the hospital, painful injuries, trauma, loss of blood, broken bones, property damage, and other problems from the accident. Reach out to our firm today to get assistance if you have been involved in a truck accident. 
Common Reasons for Truck Accidents
Truck accidents can happen for a variety of reasons. One of the most common ways is due to distracted and negligent driving. Distracted driving is when someone is more invested in doing something else while driving. This could be looking at a phone while driving, eating, or doing other things. Negligent driving occurs when someone drives recklessly or carelessly. This may involve going well over the speed limit, changing lanes improperly, following other vehicles too closely, or running red lights and stop signs. Faulty maintenance of a truck is another thing that may lead to an accident. If tires or brakes haven't been checked or maintained then this equipment may not be in the best of shape and could lead to an accident. 
Truck Accident Injuries
Injuries will vary in truck accidents from minor scrapes and bruises to severe injuries. People have been known to have broken bones, blood loss, brain injuries, spine injuries, and more when they are involved in an accident with a truck. It's important to always get checked out by a doctor following a truck accident to check for any injuries that may have occurred. Some injuries don't always present themselves as obvious and may be hidden which furthers the strong advisement of visiting a doctor after the accident. Doctor bills, therapy sessions, hospital stays, property damage, and more may be involved in your case as compensation items. Your Marietta, GA truck accident lawyer can explain more about the different injuries that can occur in a truck accident and how to go about getting those injuries compensated for.
5 Reasons to Hire a Lawyer Following a Truck Accident 
When you've been injured in a truck accident, you might be entitled to financial compensation. Ideally, the truck driver or their trucking company will immediately admit fault and provide you with a settlement that'll cover your current and future expenses, as well as compensate for factors like pain and suffering. Unfortunately, this is often not the case and dealing with a trucking company can be more complex than with your average car insurance company. Let's take a look at five reasons why it makes sense to hire an attorney: 
1. A Trucking Company Has Specific Rules and Regulations
State and federal agencies have specific guidelines for governing trucking companies and their respective employees. These guidelines are quite encompassing, including everything from who's liable following an accident to how long truck drivers get for their breaks. Knowing all of these guidelines and regulations is a vital skill to have when building your case. When you hire an attorney specializing in trucking accidents, they'll know how to handle your claim. 
2. Several Parties Can Be Involved 
While at first glance, the only parties involved in a car crash are both the drivers. However, crashes can be more complicated, especially when dealing with a trucking company. Besides the truck driver themselves, other parties that can be involved are: 
The trucking company itself 

Who owns the truck, trailer, and cargo 

The equipment producer

The company that maintains the truck

In the case of a government employee, a local or federal governmental entity
3. They Will Have the Skills to Handle the Case
When hiring an attorney, be sure to enlist help from someone specializing in trucking accidents. While trucking accidents share many similarities with car accidents, they do require an extra level of finesse, especially when dealing with the government. However, the right attorney will have the necessary skills to handle your case. 
4. They Can Help You Get More Compensation
Insurance companies can be intimidating, especially when they're representing a large trucking company or organization. In short, an insurance company may try to refuse to give you a settlement by avoiding your calls, saying you were at fault or refusing to negotiate. If they offer you a settlement, it won't cover your immediate and future expenses. Even when a settlement sounds attractive—especially if you're dealing with mounting medical bills—most likely, they're low-balling you. An attorney can negotiate with the insurance company to secure a more realistic settlement. 
5. They'll Advise You 
The right attorney will always be objective and honest with you, providing you with realistic outcomes. Most trucking accidents settle outside of court, but few make it to trial. An attorney shouldn't be afraid to take a case to trial if necessary. However, your attorney should also explain your options and the most realistic outcomes to you. With your lawyer's guidance, you can weigh your options. Your attorney's goal should be to help you achieve your desired outcome while also keeping you grounded to reality.
Marietta Truck Accident Law Infographic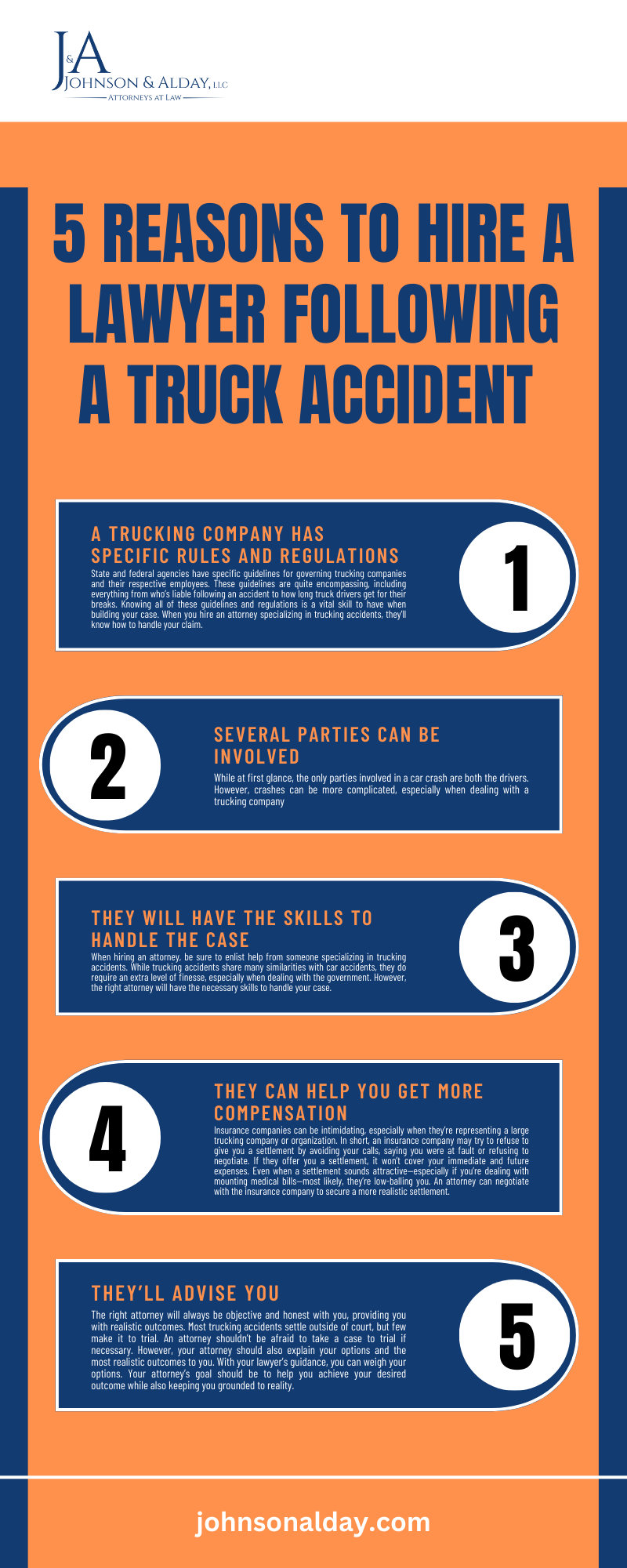 Johnson & Alday, LLC Marietta Truck Accident Lawyer
219 Roswell Street NE, Marietta, GA 30060
Marietta Truck Accident Lawyer Google Review
"Excellent attorney and staff who really goes above and beyond for his client, I'd trust him with anything, do not hesitate to call. I really loved the text feature was extremely convenient. They walked me through everything step by step and made sure I was welcomed to call with any questions I may have. I really recommend, helped me so much with my case and kept me updated throughout the process until everything was taken care of. I felt at ease during the whole process. Highly Recommended" – Crystal S.
How Johnson & Alday, LLC Can Help
We believe that we can provide our clients with a strong chance of receiving compensation for their truck accident case. Our lawyers are skilled, knowledgeable, and experienced with the different nuances that arise in these types of cases. We know what to look for and how to go about investigating the series of events that led to the accident. The case may be a strong one if it can be proven that the truck accident was caused by the lack of care and negligence of the other driver. Reach out to a truck accident lawyer Marietta, GA uses and trusts from Johnson & Alday, LLC today for assistance.
Contact Us Today
If you were recently injured in a truck accident and suspect that negligent conduct on the behalf of the other driver led to your injury or damage to personal property, contact a truck accident lawyer in Marietta, GA from Johnson & Alday, LLC today to speak with a qualified member of our team. We will stand by you and your family throughout every step of the process, serving as your advocate, and fight to obtain compensation you need to recover after the accident. We look forward to speaking with you.
Do I need to call the police after the truck accident?
As a Marietta, GA truck accident lawyer from Johnson & Alday, LLC would advise, accidents involving commercial trucks can be serious. So by having an officer investigate and assist with the scene, you will get an official report documenting what happened. These police accident reports can be influential pieces of proof after an accident. Specifically, insurance companies use reports when determining how much to compensate injury victims for, and who to place blame on. Make sure that you get the money you deserve, because chances are if you were involved in a truck accident, you sustained the most injury and damage to your property.
What details do I need to get from the truck driver?
Before leaving the scene, there are certain details that you need to get from the truck driver, such as their name, home address, phone number, insurance company, insurance policy number, driver's license number, trucking company address, trucking company phone number, and name of the trucking company that the driver works for. If you leave before this information can be written down, it will be more difficult to have your claim handled smoothly and it can hinder your ability to get in touch with those involved in the accident afterwards.

How else can I protect my best interests?
In addition to calling the police, be sure to take photos of the accident and get the information that you need from the truck driver. See your doctor as soon as you can, even if you feel okay, as it's imperative that you have a medical professional examine you so that any underlying treatments can receive care immediately. If there was anyone around that saw the accident happen, get their full name and a form of contact so that your Marietta truck accident lawyer can follow up with them for an official statement. Visually, photographs and a video can express more than words can describe, so the more evidence that you have, the more successfully you can show that the trucker, or other party, was at-fault. 
Is visiting a doctor required if I am not injured?
Yes, it is not only important to your recovery but is also essential to your case to have visited a doctor shortly after the accident. The reason for this is because if you realize later that you actually do need medical attention for injuries, this delay in treatment will not reflect well on your case. In fact, not getting medical attention right away can hinder your claim and how much financial restitution you receive for your injuries and losses. Ultimately, visit a doctor if you have been in a truck accident, or another accident or someone else was at fault, so that your health and case is protected. 
The trucking company won't get back to me, what can I do?
It may come as a surprise to realize that the trunking company for which the truck driver works for is not cooperating or not responding to you. But as a lawyer has seen, trucking companies understand that if their trucker is responsible for the collision, then this means that they are financially liable for how victims have suffered. The total in injury and property damage, in addition to other types of financial loss, can add up very quickly. A trucking company may not get back to you, that is, until you have a lawyer intervene and they are forced to take the situation seriously. 
If you need assistance after a commercial truck collision, now is the time to seek help. A dedicated and knowledgeable Marietta truck accident lawyer at Johnson & Alday, LLC is ready to take your call. 
Understanding Georgia Truck Accident Law Basics
As our Marietta, GA truck accident lawyer explains, understanding the specific laws and regulations is absolutely critical when striving to achieve a desirable outcome. These accidents can lead to severe injuries and extensive property damage. That's where the experienced truck accident team at Johnson & Alday, LLC come in. We are dedicated to helping you navigate the legal landscape and ensuring that you receive the compensation you deserve. In this article, we'll delve into the laws related to truck accidents in Georgia.
Georgia Truck Accident Laws:
Commercial Vehicle Regulations:
Georgia has strict regulations governing commercial vehicles, including trucks. These regulations cover aspects such as weight limits, maintenance standards, and driver qualifications. Violations of these regulations can lead to accidents, and our experienced team of accident lawyers are well-versed in holding negligent parties accountable.
Negligence And Liability:
In truck accident cases, establishing negligence is crucial. If a truck driver, trucking company, or other party acted negligently and caused the accident, they may be held liable for your injuries and damages. Our Marietta truck accident lawyers will thoroughly investigate your case to determine liability and build a strong legal strategy.
Hours Of Service Regulations:
Fatigued driving is a common factor in truck accidents. The Federal Motor Carrier Safety Administration (FMCSA) enforces hours of service regulations to prevent tired truck drivers from causing accidents. Violations of these regulations can result in serious accidents, and our lawyers are skilled at holding trucking companies accountable for such violations.
Insurance Requirements:
Georgia law mandates that commercial trucks carry substantial insurance coverage. This insurance is essential for covering the costs of accidents. Our experienced Marietta legal team will work with insurance companies to ensure you receive fair compensation for your injuries and losses.
Wrongful Death Laws:
Tragically, some truck accidents result in fatalities. In such cases, Georgia's wrongful death laws come into play. These laws allow surviving family members to seek compensation for their loss. Our compassionate lawyers understand the emotional toll of such cases and are here to provide support during these difficult times.
Navigating the legal complexities of truck accidents in Marietta, Georgia, can be overwhelming, but you don't have to do it alone. The Marietta truck accident lawyers at Johnson & Alday, LLC are here to provide expert guidance and legal representation. If you or a loved one has been involved in a truck accident, contact us today for a free consultation. We are committed to helping you understand your rights, seek justice, move forward on the path to recovery, and ensure that you receive the compensation you rightfully deserve.
Contact our law offices today to schedule your free consultation with our experienced Marietta truck accident lawyers. Let us fight for your rights and help you secure the compensation you deserve. Your journey to justice and recovery begins with us by your side, ensuring that you receive the full support you need during this challenging time.