Marietta Car Accident Lawyer
Car Accident Lawyer Marietta, GA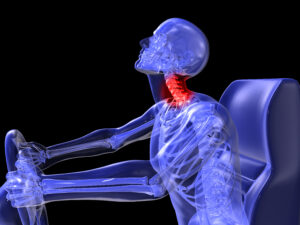 If you have been in an accident, discuss your situation with a reliable car accident lawyer Marietta, GA injury victims and their families can rely on. At Johnson & Alday, LLC we have a proven record of success in helping those who have been injured in car accidents to recover the compensation they need and deserve. With nearly 40 years of combined experience in personal injury and workers' compensation law, our team is well-prepared to advocate for you throughout every step of the process. 
Car Accident Claims
Auto accidents can be devastating events that can result in serious injury and damage to your personal property. Our team has the knowledge and experience to advocate for you in court so you can obtain the compensation you need to get back on track. We know how to stand up to insurance companies when they try to get you to settle for an amount that is far lower than what you need and deserve after your accident. Our lawyers will stand up to the involved insurance companies and make them well aware that you are not willing to settle for less than what you deserve. 
Table Of Contents
---
---
Compensatory Damages for Car Accidents
Our team can help you pursue compensation following a car accident where you sustained an injury or incurred damages to personal property, such as your car. Regardless of the level of seriousness, a car accident can have a serious impact on your life and overall well being. Compensatory damages are intended to help make the expenses associated with your recovery less financially impactful. Our Marietta car accident lawyer can help you pursue compensation for what you have already been billed for and future expenses, such as physical therapy for injuries you sustained as a result of the accident.
Compensatory damages may be referred to as "economic" or "noneconomic." Economic damages are physical quantifiable damages.
Common Examples of Economic Damages
Medical expenses – past or future

Lost wages and anticipated lost wages

In-home care services

Rehabilitation

Property damages

Out-of-pocket expenses

Lost earning capacity
Other medical expenses that compensation can be collected for:
Chronic physical health issues

Chronic mental health issues

Surgeries

Future treatments
Noneconomic Damages
Noneconomic damages pertain to less tangible or emotional conditions such as pain and suffering that are a result of the accident. Additionally, in the event of a wrongful death, or incapacitation that renders the victim unable to take legal action, a spouse may also be eligible to fight for compensation for personal injury damages sustained as a result of the car accident. Examples of noneconomic damages include but are not limited to:
Emotional anguish

Loss of enjoyment of activities

Worsening of prior injuries

Pain & suffering
Car Accident Lawyer Marietta, GA
The aftermath of a car accident can be difficult to deal with which is why seeking the services of a car accident lawyer Marietta, GA residents utilize and trust from Johnson & Alday, LLC can make things easier. Our firm understands the difficulties that people face following an accident. Not only is it tough to deal with injuries but it's also difficult to deal with insurance companies and other legal teams that may be representing other people involved in the accident. Let our firm make it easy for you in the days and months following the accident. Contact us today to get assistance with your case.

Car Accidents
Each year in the United States there are hundreds of thousands or more car accidents. Many of these accidents are attributed to careless driving. Things like speeding, improper lane changes, and running a red light are common causes of car accidents. Distracted driving is another leading cause of car accidents. Many people become quite comfortable driving after they have been doing it for a while. This leads many drivers to become extra confident and may see them pay more attention to their phones and other entertainment while driving. When drivers begin to pay more attention to other things instead of controlling their vehicles in the safest way it can lead to major issues, like accidents and injuries. If it is proven that a car accident occurred due to someone's distracted or negligent driving then the overall case may be a strong one. This could see a victim receive compensation for pain and suffering, hospital bills, doctor visits, therapy sessions, property damage, and more.  
Car Accident Injuries
Thousands of car accidents happen each day with many resulting in injuries. While many of these accidents only see a person involved receive minor cuts, bruises, or being shaken up, others are worse. Car accidents have been known to leave people paralyzed, major injuries to the brain, shattered bones, and even fatalities. In the event that you or someone you know have become injured in a car accident then it may be wise to speak with a Marietta, GA car accident lawyer to understand what to do with your hospital bills and other accident-related expenses. Pain and suffering is also something that typically is factored into a case as a compensation item. Your lawyer from our firm can help you understand more. 

What Should You Do Following a Car Crash? 
A car crash is a traumatic event that will shock you, regardless of how severe it is. However, knowing what to do after a car crash can make dealing with unfortunate situations easier. Follow these steps after a car crash: 
1. Check the Health of Yourself and Others 
Start by checking your health, the health of any passengers, and the health of the people in the other car. However, never attempt to move if it feels unsafe to do so. If someone needs immediate help, then you'll want to call 911 and have them dispatch EMTs alongside a police car. When EMTs arrive, have them check the health of everyone present, starting with those in the most critical condition. Car crashes come in many scopes; even if you only have a couple of bruises, you may have internal injuries. Therefore, EMTs should check everyone even if there don't appear to be any injuries. 
2. If Possible, Start Gathering Evidence 
If you're in critical condition, then you shouldn't think about trying to gather evidence. However, if you can move with relative ease, now might be the time to gather evidence while you wait for the authorities to arrive. Start by taking several pictures of the scene, including: 
Damage to both vehicles 

Both vehicles' license plates

Any nearby property damage (such as a fallen sign, tire marks on the road, etc.)

Bodily injuries on yourself and others
Besides photographic evidence, evidence may also include personal and witness statements. Later on, police reports and medical reports can also count as evidence. An attorney can help you gather other evidence, like testimonies from neutral third-party experts and CCTV footage. 
3. File Your Insurance Claim
Whether you plan to hire an attorney or not, you'll still need to file your insurance claim. When communicating with your insurance company, be careful not to say anything that could be misconstrued as admitting fault. However, you'll still want to cooperate with your insurance company and write a statement if necessary. The other driver's insurance company may contact you as well. Be polite but don't help them by providing statements or "jumping the gun" for accepting an offer. If necessary, tell them to contact your attorney. 
4. Be Sure to Have an Attorney On Your Side 
Your attorney can help in various ways, such as helping you gather more evidence, advising you what to say to another party, such as the police, when to accept a settlement, etc. The right attorney also won't be afraid to go to trial, but will also provide you with realistic options. The vast majority of car accidents settle outside of the court system. However, negotiating with the insurance companies on your own can result in a very low settlement or no settlement at all. 
5. Don't Discuss Your Case
Word can travel fast, and while you want to ensure your friends and family are okay, you should avoid discussing your case as much as possible. You can give your close family members some details just so they know what's going on, but try to avoid going into huge depth. Additionally, avoid conversations with friends, especially in public places. 

Marietta Car Accident Law Infographic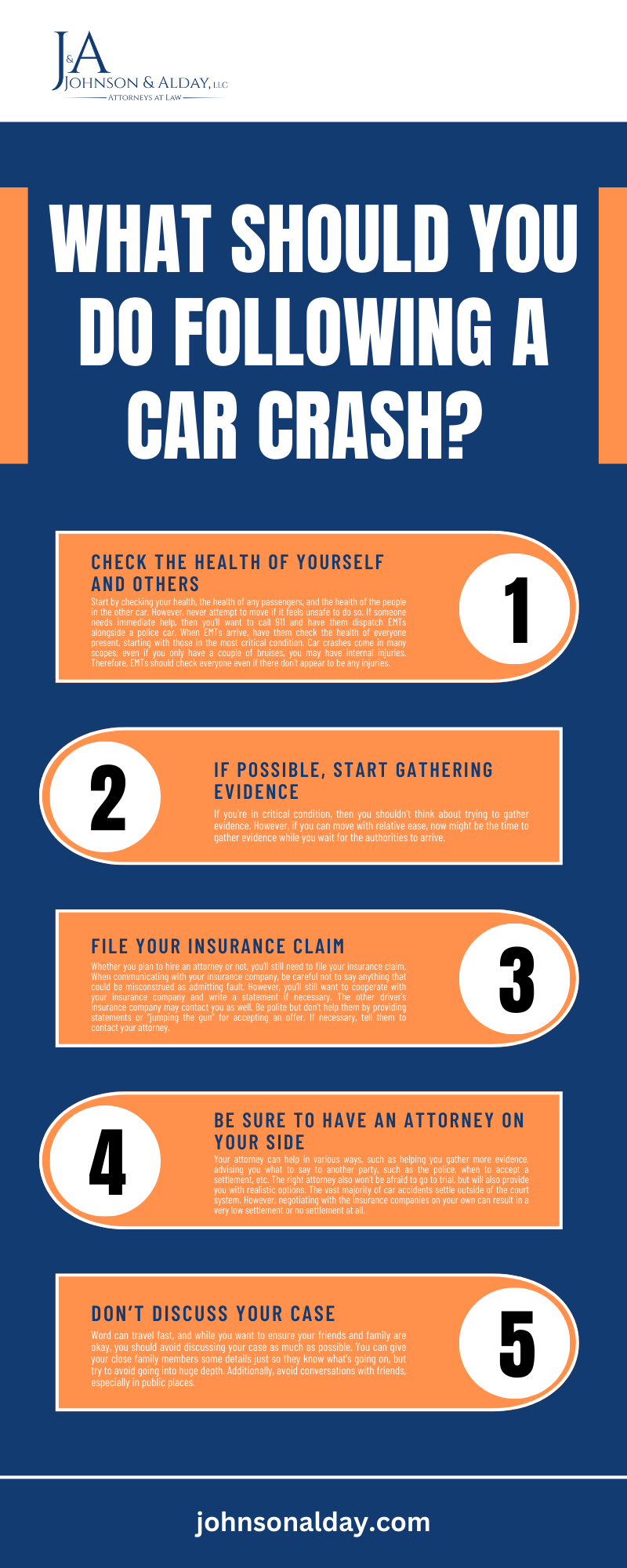 Trust Johnson & Alday, LLC to Assist
With our experience, skills, and knowledge of car accidents and personal injuries, we believe we are the right lawyers to help you with your case. We will take the time to listen to your concerns about the series of events that caused the accident. We understand the different nuances and details that may arise in these types of cases. There's no reason for people to suffer injuries and have to pay for their accident-related expenses when they were not at fault for the accident. Contact us today to speak with a car accident lawyer Marietta, GA trusts from Johnson & Alday, LLC. 
Contact Johnson & Alday, LLC
If you were recently injured in a car accident and suspect that negligent conduct on the behalf of the other driver led to your injury or damage to personal property, contact a car accident lawyer in Marietta, GA from Johnson & Alday, LLC today to speak with a qualified member of our team.
Why is an insurance adjuster calling me wanting a statement?
As a Marietta, GA car accident lawyer from Johnson & Alday, LLC may offer, after reporting the car accident to your insurance company, you will probably be contacted by an insurance adjuster shortly thereafter. An insurance adjuster is someone who is going to place value on your claim, so what you say to them is going to be important. Unfortunately, many people find that if they provide a recorded statement to an insurance adjuster, that what they say is misconstrued and used against them to limit or deny their claim. This is why getting help from a lawyer before you speak with an insurance adjuster is essential.

What are examples of evidence that I should start to gather?
The more evidence that you have for a car accident, the stronger your case is going to be. Examples of evidence that you can start gathering now include things like a copy of the police report, copies of your medical documentation related to injuries, statements from your work about missed days or lost wages because of staying home to recover, and pictures or video that you took at the scene before leaving. Witnesses can also be influential, and your lawyer can reach out to these people to get an official statement to be used in support of your case in the days to follow. 
If I had to be rushed to the hospital for injuries, how can I collect evidence?
If you had to be rushed to the hospital for serious injury after the accident, then you likely were not able to stay at the scene and collect evidence. Consider contacting someone that you know and trust to go to the scene for you to take pictures and gather debris or other tangible evidence. Keep in mind that simply the fact that you had to be sent to the emergency room as proof in itself that your injuries were severe enough to warrant immediate medical care. If you need someone to investigate the car accident more in-depth, don't hesitate to reach out to a Marietta car accident lawyer from our law firm.

Is it necessary that I call the police for help?
If you do not call the police after a car accident, then an officer is not going to show up and file a police report of what happened. A police report can be a major influencing piece of evidence in your case, as it will include details related to the accident and potentially contributing factors. Depending on the severity of the collision and the area that it happened, dispatchers may not send out police if damage was minor and no one was hurt. But otherwise, it is always strongly advised that you call 911 for help so that a report can be taken, the officer can help with the scene, and ultimately your best interests are better protected.
I don't have visible injuries, is it okay to wait until there are symptoms?
It is always recommended that you go to the doctor right away after a car accident, whether you have visible injuries or symptoms, or not. The reason for this is because most people who are involved in an accident, even one that is 15 MPH or less, can still sustain some degree of injury. And while you may not feel the full extent of your physical injuries in the moment, you may later. Delaying getting medical attention can have a negative effect on your claim, so it's better to be safe than sorry and seek a doctor's examination the same day if possible. A Marietta car accident lawyer from Johnson & Alday, LLC is ready to take your call. 

Johnson & Alday, LLC Marietta Car Accident Lawyer
219 Roswell Street NE, Marietta, GA 30060
Marietta Car Accident Lawyer Google Review
"Excellent attorney and staff who really goes above and beyond for his client, I'd trust him with anything, do not hesitate to call. I really loved the text feature was extremely convenient. They walked me through everything step by step and made sure I was welcome to call with any questions I may have. I really recommend it, helped me so much with my case and kept me updated throughout the process until everything was taken care of. I felt at ease during the whole process. Highly Recommended" – Crystal S.