Dog Bite Lawyer Marietta, GA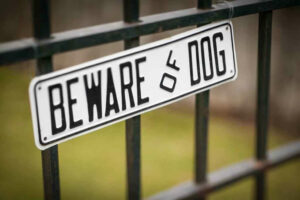 In the unfortunate event that you or someone you know has been the victim of a dog bite, it's important to know that there are legal avenues you can take in order to recover compensation such as contacting a dog bite lawyer Marietta, GA. For example, if your dog has bitten someone and you feel responsible, an experienced dog bite lawyer could help you achieve compensation through filing a personal injury lawsuit against the owner of the dog. Of course, not every case is going to be easy to prove, so it helps to have an attorney who knows what they're doing and will be able to help win your case; contact one today at Johnson & Alday, LLC.
Dog Bite Liability and Legal Requirements
There are a few things to keep in mind if you or someone you know has been bitten by a dog. In the state of Georgia, the owner of the dog is automatically liable for any injuries caused by the dog. However, there are a few exceptions to this rule. If the victim was trespassing on the property where the dog was kept, or if the victim was provoking the dog, then the owner may not be held liable. Other conditions that may determine liability include whether the victim was aware of what they were doing at the time and whether they were intoxicated. The laws are constantly changing and it's important to stay up-to-date with all current legal requirements.
The number one goal when talking about dog bites is usually recovery of damages such as medical bills, physical therapy costs, or loss of wages due to injury and/or emotional distress suffered from being bitten. Dog bites can happen anywhere; inside or outside a home or business establishment and an experienced attorney can help you figure out who should be held responsible and how much compensation should be awarded.
Injuries from Dog Bites Can be Severe
There are many ways a dog bite can occur. Maybe you were walking down the street and a dog ran up to you and bit you. Or, perhaps you were at a friend's house and their dog bit you. Dog bites are very serious and they may cause any number of injuries. Some of these injuries include puncture wounds, broken bones, or permanent disfigurement. If the owner was negligent in caring for their pet, they could be held liable for your injuries. If you were bitten by someone else's dog while out on your walk, then you may want to consider getting in touch with a Marietta dog bite lawyer who can help protect your rights as well as assess your legal options.
The National Association of Personal Injury Lawyers recommends that anyone who has been bitten by an animal should seek medical attention immediately. If the injury does not require immediate medical attention, it is still important to get checked out because infections can develop from animal bites.
What to Do After Getting Bitten By a Dog
As a dog bite lawyer Marietta, GA residents trust can confirm, many people get bitten by dogs every year. Getting bitten by a dog can be a scary experience and result in serious injuries. If you suffer a dog bite injury, here are the next steps you should take.
Inform the dog owner.

After you have been bitten by a dog, it is important to locate the owner and inform him or her what happened. Ask for the owner's full name and contact information.
Get medical care.

Dog bites can result in various injuries, including broken bones, nerve damage, eye injuries and tissue damage. You could also be at risk of rabies. As such, it is important to seek emergency medical care promptly. A doctor will evaluate your injuries and recommend the proper treatment. The sooner you get medical treatment, the higher chance you have at making a full recovery.
Take photos of your injuries.

If you have physical injuries from the dog bite, such as puncture wounds or eye injuries, you should take photos of them right away. Injuries can heal over time, and you want to capture the full extent of them while they are still fresh. 
Contact a lawyer.

Dog bites injuries can result in medical bills, lost wages and other damages. You deserve to be compensated for that. If you plan to file an injury claim against the owner, it is important to have a Marietta dog bite lawyer on your side. A lawyer will help you file a timely claim against the dog owner and improve your chances of receiving a fair settlement.
Write in a journal.

It is also a good idea to write everything you remember about the incident in a journal. Do so as soon as possible because memories can fade over time. For instance, if you observed the dog growling or had its ears pinned back before the attack, jot the information down. Additionally, you may want to describe how the attack has affected your life thus far.
File a report.

You do not want what happened to you to happen to someone else. Therefore, you should file a report with the police and animal control. They will make sure that the owner takes the proper steps to ensure the dog does not bite again.
Follow your doctor's orders.

Once your doctor has determined the appropriate treatment plan, it is important to follow it. You will not get better if you do not follow your doctor's instructions or quit treatment prematurely. If you do not understand something about your treatment, don't hesitate to ask your doctor for clarification. Failing to listen to your doctor's instructions will not just jeopardize your health. As a Marietta dog bite lawyer can attest, it can also hurt your injury claim. The defendant's insurance company may claim that you were not truly hurt if you stopped your treatment.
If you or a loved one has been bitten or attacked by a dog in any way, contact a Marietta dog bite lawyer at Johnson & Alday, LLC for help with your case today.