Marietta Bicycle Accident Lawyer
Bicycle Accident Lawyer Marietta, GA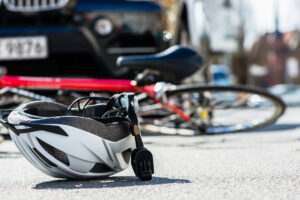 A Marietta, GA bicycle accident lawyer can help if you've been injured on your commute, and the professionals at Johnson & Alday, LLC are standing by to walk you through your case.
As more and more Americans are switching to bicycles for transportation (whether for economic, environmental, or health reasons), it's a sad reality that bike accidents increase, too. A bicycle accident can put you out of commission for a lengthy period of time, and during that time you'll need all the legal help you can get. Read on to learn more about the impact of a bike accident, and see how we can help.
Bicycle Accident Injuries: The Tip of the Iceberg
It doesn't matter if you had a collision with another bicyclist, a car, or any other kind of vehicle – bike accidents can cause injuries, and those injuries can be serious. However, after your initial accident, you may find yourself facing an uphill battle.
Medical bills are expensive, and while you may assume your insurance provider can cover the cost of your injuries, you never know when they'll actually pay you. In some instances, insurance providers will delay payment for as long as possible, just so they can generate money on interest. And when they finally do pay up, they may pay you much less than you deserve.
To make matters worse, you may not be able to clock in for work while you're dealing with your recovery. No work means no pay, and more financial pressure than you should be dealing with after an accident. It can be stressful, confusing, and frustrating to wait on insurance while your bills stack up, but the right legal team can make all the difference.
How a Bicycle Accident Lawyer Can Help You
At Johnson & Alday, LLC, we know you deserve better treatment. A Marietta bicycle accident lawyer from our office can help you deal with your insurance company, and the rest of your bike accident aftermath. When you get in touch with our office, you get an experienced legal team who can deal with your insurance on your behalf – and we can help you fight for additional compensation, too.
If a driver was negligent and put you in danger, we can help you hold them responsible for your injuries. We can also investigate your accident to determine if anyone else can (and should) be held accountable. A bicycle accident isn't something you can easily shrug off, and you'll need all the help you can get from a skilled bicycle accident lawyer.
Contact Johnson & Alday, LLC Today
Bicycles are becoming more popular, but bike accidents are becoming more common, too. According to the National Safety Council (NSC), bicycle accident fatalities increased by 40% over the past ten years – and while not every bike accident is fatal, there's always the chance of serious injury.
If you've been injured in a bike accident, don't wait to get the compensation you deserve. Our office has nearly 40 years of combined personal injury law experience, and we're ready to help. Reach out to Johnson & Alday, LLC today for a free case evaluation from a Marietta bicycle accident lawyer you can trust.