Marietta Bicycle Accident Lawyer
Bicycle Accident Lawyer Marietta, GA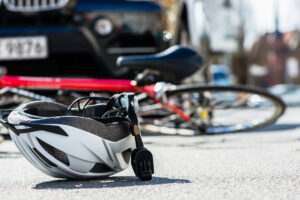 A Marietta, GA bicycle accident lawyer can help if you've been injured on your commute, and the professionals at Johnson & Alday, LLC are standing by to walk you through your case.
As more and more Americans are switching to bicycles for transportation (whether for economic, environmental, or health reasons), it's a sad reality that bike accidents increase, too. A bicycle accident can put you out of commission for a lengthy period of time, and during that time you'll need all the legal help you can get. Read on to learn more about the impact of a bike accident, and see how we can help.
Bicycle Accident Injuries: The Tip of the Iceberg
It doesn't matter if you had a collision with another bicyclist, a car, or any other kind of vehicle – bike accidents can cause injuries, and those injuries can be serious. However, after your initial accident, you may find yourself facing an uphill battle.
Medical bills are expensive, and while you may assume your insurance provider can cover the cost of your injuries, you never know when they'll actually pay you. In some instances, insurance providers will delay payment for as long as possible, just so they can generate money on interest. And when they finally do pay up, they may pay you much less than you deserve.
To make matters worse, you may not be able to clock in for work while you're dealing with your recovery. No work means no pay, and more financial pressure than you should be dealing with after an accident. It can be stressful, confusing, and frustrating to wait on insurance while your bills stack up, but the right legal team can make all the difference.
How a Bicycle Accident Lawyer Can Help You
At Johnson & Alday, LLC, we know you deserve better treatment. A Marietta bicycle accident lawyer from our office can help you deal with your insurance company, and the rest of your bike accident aftermath. When you get in touch with our office, you get an experienced legal team who can deal with your insurance on your behalf – and we can help you fight for additional compensation, too.
If a driver was negligent and put you in danger, we can help you hold them responsible for your injuries. We can also investigate your accident to determine if anyone else can (and should) be held accountable. A bicycle accident isn't something you can easily shrug off, and you'll need all the help you can get from a skilled bicycle accident lawyer.
Staying Safe on a Bike
A Marietta, GA bicycle accident lawyer knows that cycling has gained in popularity over the past decade or so. Many people enjoy riding a bike for recreation, exercise, and even for transportation. Cycling is a healthy activity when it comes to the benefits for our bodies, however, it can also pose dangerous risks of catastrophic injuries or even death because of the high rate of bicycle accidents that take place each year. The following are some tips to help cyclists stay safe when they are on the road. If you are injured, contact Johnson & Alday, LLC for legal assistance.
Stats and Tips
According to national statistics, more than 800 people are killed each year in bike accidents involving vehicles. Thousands more suffer serious injuries that often leave them with permanent disabilities, changing their lives forever. Tragically, these numbers continue to increase each year.
If you ride a bike, there are steps you can take to minimize your risk of injury. If you are injured in a bicycle accident, call a Marietta bicycle accident lawyer and find out what damages you may be entitled to.
Cyclists who live in urban areas are at significant risk of being involved in a crash because of the high number of vehicles and traffic on the roads. In fact, more than 70 percent of all bike accident deaths happen in urban areas. People who ride their bikes on city streets need to take extra precautions to stay safe.
The following safety tips are recommended by safety advocates and can help minimize your risks of being involved in a bicycle accident:
Always wear your helmet – Multiple studies have shown that a bicyclist who wears a helmet substantially reduces their risk of a brain injury. More than 70 percent of all fatal bike accident victims suffer a traumatic brain injury. Statistically, more than half of those victims are not wearing helmets. No matter how short your trip may be, wear your helmet whenever you ride.

Make sure vehicle drivers can see you – A Marietta bicycle accident lawyer knows that approximately 20 percent of all fatal bike accidents occur in the evening, between the hours of 6:00 pm to 9:00 pm. If you are going to be riding at night, make sure you are wearing bright-colored clothing. Consider purchasing a safety vest or other clothing that has reflective markings. You should also make sure your bike is equipped with a headlight in the front, a blinking light in the back, and reflectors so vehicle drivers can see you.

Never drink and drive – Cyclists are required by law to follow the same traffic laws as vehicle drivers. This includes drinking. It is against the law for a cyclist to drink and then drive their bike. It is also extremely dangerous. Approximately one in five cyclists who are killed in bike accidents have a blood alcohol content (BAC) of .08 or higher, over the legal limit. If you are going to drink, keep your bike at home and take a ridesharing service, taxi, or have a friend who is a designated driver.
Contact Johnson & Alday, LLC Today
Bicycles are becoming more popular, but bike accidents are becoming more common, too. According to the National Safety Council (NSC), bicycle accident fatalities increased by 40% over the past ten years – and while not every bike accident is fatal, there's always the chance of serious injury.
If you've been injured in a bike accident, don't wait to get the compensation you deserve. Our office has nearly 40 years of combined personal injury law experience, and we're ready to help. Reach out to Johnson & Alday, LLC today for a free case evaluation from a Marietta bicycle accident lawyer you can trust.
What You Need To Know About Bicycle Accidents
Bicycle accidents are common in Marietta, GA. More than 1,600 bicycle accidents happen every year in Marietta alone, according to the National Highway Traffic Safety Administration. While bicycle helmets can prevent brain injuries in a crash, many victims suffer injuries that require medical attention, such as broken bones and internal injuries.
If you or someone you love has been involved in a bicycle accident, call a bicycle accident lawyer Marietta, GA at Johnson & Alday, LLC today for a free consultation about your legal rights and options.
One of the biggest reasons for bicycle accidents is poor road conditions. Poor road conditions include potholes, bumps, uneven surfaces, and other obstacles that affect cyclists' safety while riding on public roads.
If you're hit by another vehicle while riding a bicycle on public roads, it's important to contact an experienced bicycle accident lawyer Marietta right away because there may be time limits on how soon you can file your claim and pursue compensation for your injuries.
When you are involved in an accident while riding your bicycle, there are many factors at play. The driver of the vehicle may claim that they did not see you or intentionally drove into you. This can result in serious injuries requiring medical treatment and rehabilitation services. If this happens, you should contact an experienced bicycle accident attorney who knows how to build a strong case against the other party involved in your accident.
In many cases, this can result in a settlement that will cover the costs of your medical treatment and any other losses. If you are injured by someone's negligence while riding your bicycle, it is important to speak with an attorney as soon as possible.
What to Do After a Bicycle Accident
After a bicycle accident, it is important that you seek medical attention immediately if you were injured. When you go to the emergency room, make sure that they document your injuries and treatment in your medical records. Also, get any photos taken of your injuries at that time so that we can use them as evidence during the trial if necessary.
If possible, write down everything about what happened leading up to the crash, including where it happened, who was involved, and any witnesses who saw what happened or may have information about what happened before or after the crash happened.
Bicycle Accident Lawyers Can Help You Get Compensation
If you've been involved in a bicycle accident, whether as a cyclist or as a driver, it's important to speak with a Marietta bicycle accident lawyer. A bicycle accident attorney in Marietta can help you understand the legal options available to you and make sure that your rights are protected throughout the process.
Contact Us Today
At Johnson & Alday, LLC, we understand how overwhelming it can be dealing with a serious injury after being involved in an accident while riding your bike versus driving a car or truck with four wheels on it. Our bicycle accident attorneys will work diligently to help you get the compensation you deserve. If you have been injured in a bicycle accident, don't hesitate to get in touch with us today to schedule your free consultation.
Frequently Asked Questions | Bicycle Accidents
If you have been injured in a bicycle accident, you may want to consult a Marietta, GA bicycle accident lawyer. You may be eligible to receive compensation for your losses, such as your medical bills and lost wages. A lawyer from Johnson & Alday, LLC may help you file a claim against the negligent parties.
Who Can I Hold Liable in a Bicycle Accident?
If you have been hurt in a bicycle accident and want to pursue compensation, you have to determine who to hold accountable. An experienced lawyer can assist you with this. For example, if you were hit by a motorist who was speeding, you may hold the motorist responsible for your injuries. Likewise, if a motorist hit you due to fault brakes, the car manufacturer may also be held liable. Other possible liable parties may include other bicyclists, pedestrians and the government.
Can Bicyclists Sustain Serious Injuries in Accidents?
Yes. Since bicyclists lack the protection of a vehicle, they have a higher risk of suffering severe injuries than motorists. Some of the most common bicycle accident injuries include traumatic brain injuries, broken bones, spinal cord injuries, facial injuries and abrasions. That is why it is critical to seek immediate medical attention. A doctor should give you a full assessment and then advise on the proper treatment. Delaying medical care may worsen your injuries.
Can You Sustain Emotional Injuries in a Bicycle Accident?
Yes. Many people associate bicycle accidents with just physical injuries. However, as a Marietta bicycle accident lawyer can confirm, bicycle accidents can also result in depression, anxiety and even post-traumatic stress disorder. A bicycle accident can be a very scary and traumatic event, after all. If you have suffered emotional distress after a bicycle accident, you may benefit from seeing a mental health counselor. You may be entitled to compensation for your counseling.
How Do I Choose the Right Lawyer?
If you plan to file a claim for your injuries, it is wise to have a bicycle accident lawyer on your side. However, you may wonder how to choose the right one. There are certain qualities you may want to look for in a lawyer, such as extensive experience with bicycle accident cases, compassion, honesty, good negotiation skills and strong communication skills. During your first consultation with a lawyer, do not hesitate to ask questions about his or her experience and training. Observe how the lawyer is interacting with you and whether or not you feel comfortable with him or her.
Is It Necessary to File a Police Report?
Many bicyclists wonder if it is worth it to file a police report after an accident or not. The answer is yes. Call the police immediately after the accident so that they can come to the scene. Filing a police report showcases that an accident occurred and that you contacted the police. A report may strengthen your injury claim.
Schedule a Consultation Today
If you want to pursue a bicycle accident claim, you should schedule a consultation with a Marietta bicycle accident lawyer from Johnson & Alday, LLC today.