Marietta Motorcycle Accident Lawyer
Motorcycle Accident Lawyer Marietta, GA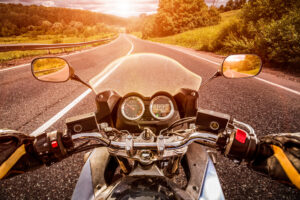 If you have been in a motorcycle accident, it may be in your best interest to discuss your situation with a reliable motorcycle accident lawyer Marietta, GA injury victims and their families can rely on. At Johnson & Alday, LLC we have a proven record of success in helping those who have been injured to recover the compensation they need and deserve. With nearly 40 years combined experience in personal injury and workers compensation law, our team is well prepared to advocate for you throughout every step of the process. 
Motorcycle Accidents
As a motorcyclist, you likely understand that there are inherent dangers of riding and that when you get on a motorcycle, you accept a higher level of vulnerability than those traveling by car or truck. Riders can only be in control of their actions on the roadways. Unfortunately, external factors are the cause of many serious motorcycle accidents, factors such as other drivers and road conditions.
If you are injured while riding and suspect that negligent actions of another were to blame, you may be eligible to pursue compensation for your injuries and damages to your property. Georgia riders should contact a reputable motorcycle accident lawyer in Marietta, GA today to learn more about how we can help you in your recovery process.
Determining Liability
In order to achieve a successful outcome in your case, we must determine liability through evidence such as police reports, medical records, photos of the accident and injuries, and eyewitness testimony. Our Marietta motorcycle accident lawyer will advocate for you throughout every step of the process and work to identify proper evidence to support your claim. 
Compensatory Damages for Motorcycle Accidents
Regardless of the level of seriousness, a motorcycle accident can have a serious impact on your life and health. Compensatory damages are intended to help make the expenses associated with recovering from injuries sustained in the accident less financially impactful so you can focus your energies on recovering. 
Compensatory damages may be referred to as "economic" or "noneconomic." Economic damages are physical quantifiable damages.
Common Examples of Economic Damages
Medical expenses – past or future

Lost wages and anticipated lost wages

In-home care services

Rehabilitation

Property damages

Out-of-pocket expenses

Lost earning capacity
Other medical expenses that compensation can be collected for:
Chronic physical health issues

Chronic mental health issues

Surgeries

Future treatments
Noneconomic Damages
Noneconomic damages pertain to less tangible or emotional conditions such as pain and suffering that are a result of the accident. Examples of noneconomic damages include but are not limited to:
Emotional anguish

Loss of enjoyment of activities

Worsening of prior injuries

Pain & suffering
Motorcycle Accident Lawyer Marietta, GA
Getting into a motorcycle accident is never something that anyone wishes to have happen and the days after the accident can be difficult which is why a motorcycle accident lawyer Marietta, GA residents trust from Johnson & Alday, LLC is here to assist. Having a legal team represent you or someone you know following the accident could be the difference between receiving a generous compensation package for injuries and property damage or an unfair one. When it is proven that the motorcycle accident occurred due to the negligence of another person then a motorcycle accident case may be quite strong. This is when things like pain and suffering, property damage, doctor bills, hospital stays, and more may be compensated. Reach out to our firm today to get assistance in the aftermath of a motorcycle accident. 
Motorcycle Accident Reasonings 
Motorcycle accidents, like car accidents, happen for many reasons. One of the most common reasons though is due to negligent and careless driving by other people on the road. Many drivers do not check twice or fail to do a thorough check of their mirrors or out of their windows when they change lanes. When they fail to do these checks and a motorcycle is in their blind spot then an accident could occur. Motorcycles are also more susceptible to being impacted by improperly maintained roads or weather conditions. An improperly maintained road could have potholes, cracks, or other sensitive issues that are more dangerous for motorcycles to drive on. The fact that motorcycles have smaller tires and wheels and a less firm frame than say a car shows how they can be impacted by hitting a pothole or crack in the road. Weather conditions are another thing that motorcycle riders need to pay more attention to than drivers operating a car or truck. Slippery road conditions and poor visibility can be particularly harmful. 
Motorcycle Accident Injuries
Injuries in a motorcycle accident could be severe. Injuries like broken bones, whiplash, severe scraping, brain injuries, spine injuries, and more can and could all occur. A Marietta, GA motorcycle accident lawyer can fill you in more on the different types of motorcycle accident injuries people have sustained in the past. Injuries could see people needing to stay in the hospital for days and even weeks in order to recover. Some injuries too are unfortunately permanent, like some brain injuries and paralysis. Contact our firm today to hold the guilty party responsible for the injuries they have caused. 
How Our Firm Can Help
Our lawyers have the proper knowledge, skills, and experience to help victims of a motorcycle accident. We will fight to give our clients a strong chance at receiving compensation for injuries they received in an accident. No one should have to suffer pain and expenses when they were impacted by someone else's negligence or lack of care. Reach out to our firm today to speak with a motorcycle accident lawyer Marietta, GA utilizes from Johnson & Alday, LLC. 
Contact Johnson & Alday, LLC for Assistance
If you were recently injured in a motorcycle accident and suspect that negligent conduct led to your injury and damage to your personal property, contact our motorcycle accident lawyer in Marietta, GA from Johnson & Alday, LLC today to speak with a qualified member of our team.